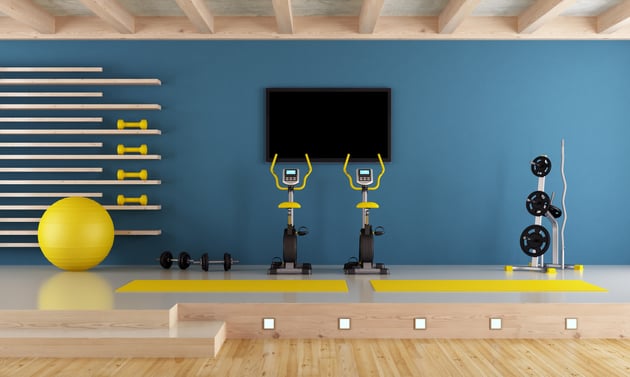 Construction cranes dot the downtown Seattle landscape as far as the eye can see. Condos, hotels, office and multi-use spaces are being built at a lightning pace. Competition's tough in the commercial and corporate real estate market these days - what are you doing to keep up?
It's All About the Amenities
Amenities like energy efficiency, smart building technology, outdoor space and quality food and beverage options are on the lists of both commercial and corporate prospective tenants. But one amenity stands above the others on the "must-haves" list.
Fitness centers.
Nearly every new building going up in downtown Seattle will have prime real estate within the building carved out for fitness. In addition to having a great location within the building, you can bet the space will be stocked with state-of-the-art equipment, showers, lockers and high-end finishes.
So what do you do if your building lacks a fitness center? Or maybe it has one, but it was built as an afterthought. Perhaps it's in the basement or adjacent to a parking garage with a motley arrangement of outdated equipment.
What Do Your Tenants Want?
There's actually quite a bit you can do with little to no fitness space. But before you go any further, get a sense from your tenants about what they'd like to see. Are they interested in a few group exercise classes? Is resistance training high on the list? Are showers and lockers a priority for your bike commuters or lunchtime runners? Sending out a short survey can save you time and money.
After you've received the survey results and have a sense of what your budget is, it's time to start planning.
Don't Go It Alone
Is there budget to build or renovate existing space? Small fitness centers can cost anywhere between $10,000-$50,000. If you have the funds, great! It's time to bring in an architect and a fitness design consultant. A fitness design consultant will work closely with your architect on spacing requirements and finishes appropriate to a fitness center that meets the needs of your tenants. A consultant will also help you choose equipment right for your space and population and will work with the major equipment manufacturers to secure purchases within your budget.
If your budget is small, can funds be found to refresh the space with a fresh coat of paint? How about upgrading aging cardio equipment or adding a piece of multi-function weight training equipment? Even just rearranging existing equipment or removing unused equipment to make the space more user friendly can significantly increase usage.
Getting Creative Without a Fitness Center
What if you don't have a dedicated space for fitness? No problem. Conference rooms, large common areas and even outdoor spaces are perfect for group exercise classes. Equipment is not necessary, although participants should be encouraged to bring a mat, towel and water.
Although much simpler than designing or refreshing a fitness space, offering group exercise classes can still be challenging enough to employ the services of a fitness management and staffing firm. Issues like scheduling, staffing and communication to your population can be managed remotely, leaving your team freed up to manage the day-to-day of your building.
Stay Competitive
There are a multitude of ways to keep your building competitive in the fast-paced commercial and corporate real estate market. From navigating equipment spacing requirements to sourcing the right equipment, finishes, supplies and staffing, Vivecorp can take care of the entire process. For a complete list of our fitness capabilities, click here. Contact us to learn more about how Vivecorp can help your company.