Providing access to people of all abilities should be an important consideration when designing or refreshing your small fitness center. The Americans with Disabilities ACT (ADA), passed in 1990, did not include fitness centers in its original scope. It's since been updated to include fitness centers with the 2010 ADA Standards for Accessible Design.
There are several mandates in the 2010 update relating to fitness centers. However, It's important to note these mandates only include the obligation to remove barriers from existing buildings when it is readily achievable to do so. Readily achievable means easily accomplished and able to be carried out without much difficulty or expense.
If you have an existing fitness center, you are still required to make certain updates. Pre-2010 facilities are considered to be in compliance if they meet the 1990 ADA standards, also referred to as the "safe harbor" exception. The exception to this general rule is that facilities must be in compliance with items in the 2010 ADA standards that were not included in the 1990 version of the ADA. These new standards specifically include exercise equipment.
Exercise Equipment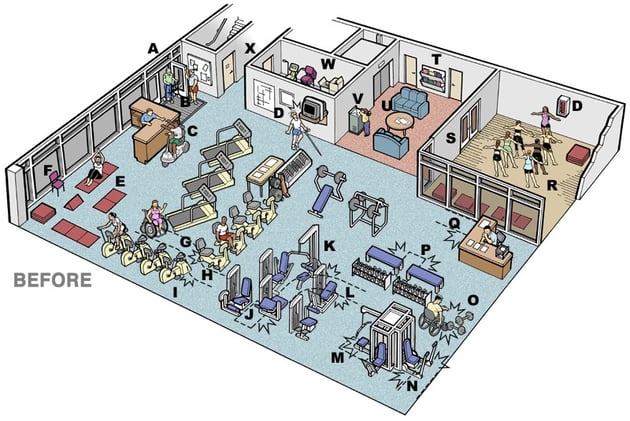 http://www.nchpad.org/fitnessCenter/index.html
Making exercise equipment accessible to people with disabilities might be as simple as rearranging your equipment. Spacing requirements dictate 30 inches by 48 inches around each piece of equipment to allow for transfer to and from equipment.
Gyms must have at least one of each type of equipment available to people with disabilities. This means if you have five treadmills, at least one must be accessible. For strength equipment, since they are each unique, there must be one of each kind accessible.
Accessible Routes and Entrances
You'll need to ensure people with disabilities have easy access to your fitness center.
The approach to the entrance of your facility should be at least 36" wide. If not all entrances are accessible, there should be a sign at the accessible entrance with the International Symbol of Accessibility.
The door should be equipped with hardware that is operable with one hand and does not require tight grasping, pinching or twisting of the wrist. The clear opening width of the accessible entrance door should be at least 32 inches, between the face of the door and the stop, when the door is open 90 degrees.
Bathrooms and Locker Rooms
Restrooms are heavily regulated by the ADA. Most restrooms and locker rooms are required to have at least one handicap accessible bathroom stall and sink. A handicap shower also must be included in locker rooms.
If your bathroom and locker rooms do not meet the ADA standards, certain readily achievable action items might include:
widening entry and stall doors

moving obstacles such as vending machines

rearranging toilet partitions to increase maneuverability for people using wheelchairs

installing a raised toilet seat

installing grab bars near the toilet

re-positioning paper towel dispensers; installing lever handles on at least one sink

installing insulation around exposed lavatory pipes to prevent individuals who use wheelchairs from burning their legs while sitting at the sink

where showers are available, an accessible shower stall must also be available if readily achievable
If a fitness center provides more than one restroom and shower and not all are accessible, a sign should indicate where the accessible facilities are located.
Simple symbols indicating which facilities are for men or women are easier for some people with cognitive impairments (such as mental retardation) to understand than words or other images. Raised letters and Braille differentiating men's and women's restrooms are important for people who are blind and large, high-contrast signs help people with limited vision. Fitness centers should take all of these measures to make shower and restroom signs accessible if readily achievable.
Guide Dogs
Typically, during a workout, guide dogs need to be near their owners and have them in their field of vision at all times. It is important that members with service dogs are aware of the space their dogs require, as well as the placement of the dogs in relationship to the other members trying to work out in the facility.
In a class setting, such as a yoga class, a member would have his/her dog lay down next to his/her yoga mat so as not to be in the way of the other members. It's also important to instruct your staff on the rights of people with disabilities who have service dogs so appropriate accommodations can be made.
Other Considerations
Chances are your facility has a drinking fountain or watercooler. Facilities with drinking fountains must make them accessible if it is readily achievable to do so. To make fountains accessible, mount them low enough to be easily reached from a sitting position or install a paper cup dispenser within easy reach.
If your facility provides public telephones, at least one telephone must be accessible to people who use wheelchairs or other mobility devices if readily achievable.
Next Steps
This is not an exhaustive list of ADA requirements. Included below are resources to help guide your decision-making process. If you need further consultation, Vivecorp can work with you to determine the best course of action to meet ADA requirements. In addition, we'll help you design an inclusive and inviting experience for all your fitness center members. Contact Vivecorp today for more information.
Resources
http://www.adachecklist.org/doc/fullchecklist/ada-checklist.pdf
https://www.ada.gov/regs2010/ADAregs2010.htm
http://accessadvocates.com/2010-ada-standards-accessible-design-gym/
http://www.fitandlegal.com/blog/the-more-you-know-why-ada-compliance-now-will-save-time-and-money-down-the-road
https://dredf.org/legal-advocacy/laws/access-equals-opportunity/recreation-and-fitness-centers/
https://www.ada.gov/racheck.pdf