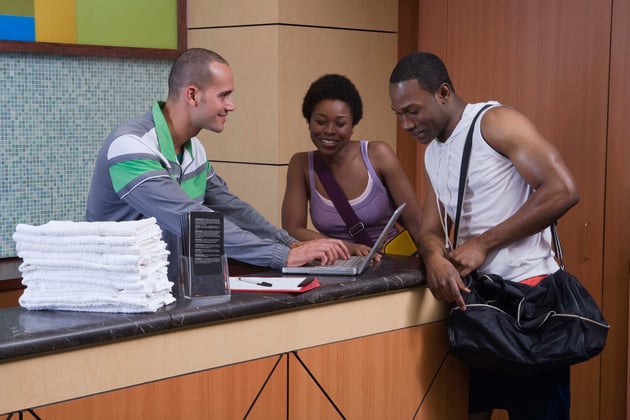 Your company spent a lot of money building, refurbishing or remodeling your corporate or tenant fitness center. If your goal was to improve health and productivity, wouldn't you want your employees or tenants to get the most out of it?
A staffed fitness center is a great way to enhance your the health and well-being of those who use it and protect your investment. Here are three more reasons why you should staff your corporate or tenant fitness center.
Safety
Having a staffed fitness center means members can be pre-screened to use the facility. Pre-screenings identify those who might need medical releases to safely exercise, reducing the likelihood of unforeseen incidents happening at the facility. In the event of an emergency, fitness center staff from reputable fitness center management companies will all have current, nationally recognized personal training and First Aid/AED/CPR certifications (do your homework, though!) and will be able to provide basic help.
Fitness center staff also answer equipment or fitness-related questions and can prevent injury by instructing members on proper exercise form and equipment usage.
In addition to keeping an eye on members, fitness center staff can also monitor the equipment and the facility. Staff can track equipment maintenance and alert you to potential issues, like early wear or a malfunction while also keeping fitness equipment and the facility clean.
Increased Usage
A staffed corporate or tenant fitness center will ultimately lead to the fitness center being used. 60% of employees and tenants will use a staffed fitness center versus only 20% who will use an unstaffed fitness center. Not a great return on investment, is it?
In addition to the "Cheers" factor (a place where everybody knows your name), fitness center staff can guide new users and challenge regulars. This support system increases the chance of your members reaching their health and fitness goals.
Finally, fitness center staff can identify areas of opportunity within your population to ensure everyone using the fitness center has an appropriate entry point. Think walking groups to boot camps and everything in between.
Health Promotion
In addition to offering programs like personal and group trainings, fitness center staff can offer speciality programming, health and fitness-related seminars, group challenges and more.
You can (and should) use your staffed fitness center as a way to communicate and drive engagement in your organization's health and wellness initiatives through one-on-one staff interactions, bulletin boards, email, social media, etc.
BONUS: Fun!
Yes, the fitness center can be fun. Our surveys show the overwhelming reason why members participate in Vivecorp-managed speciality programs and services at our clients' fitness centers is because they thought it sounded like fun. If employees can begin connecting healthy behaviors with having fun (an intrinsic motivator), their chances of creating long term, healthy habits are much greater.
Vivecorp has managed and staffed more than 35 fitness centers for both large and small organizations in a variety of settings. Contact us to learn more about how Vivecorp can help your company get the most out of its fitness center.