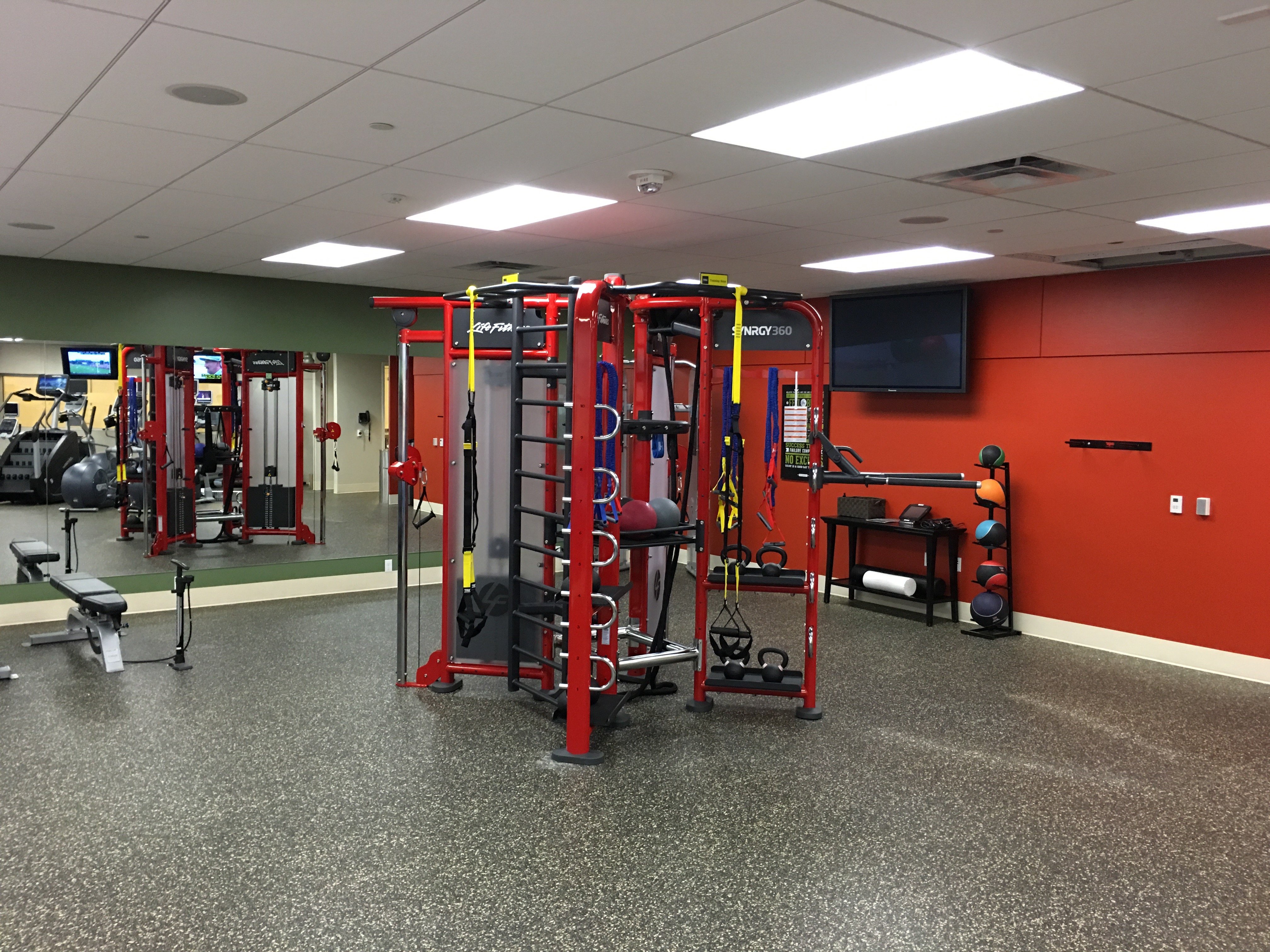 Example of energizing paint colors and use of modular fitness equipment to create a welcoming environment in a small, windowless corporate fitness center.
Corporate fitness centers have come a long way. Gone are the days of dark, small spaces tucked away in a basement or parking garage. Most Class A commercial real estate floor plans give substantial space to high-end fitness centers filled with the latest in equipment and design finishes.
So what should you be thinking about when designing or upgrading your corporate fitness center? These three design trends will help you raise the bar and provide a fun and engaging fitness experience for your members.
Dedicated Training Spaces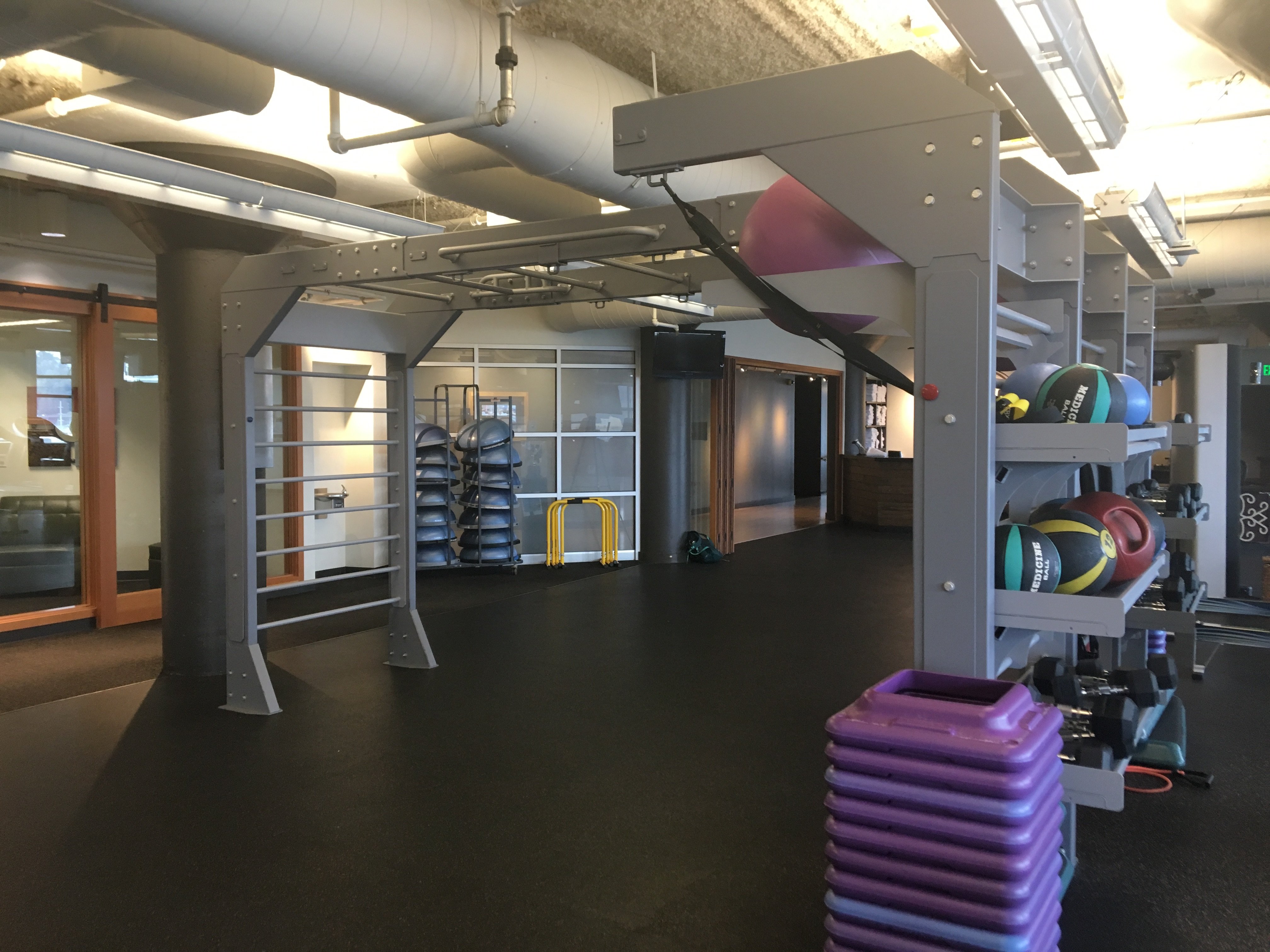 This dedicated group training space doubles as equipment storage and keeps the floor open for other activities.
The differences between group exercise and personal training continues to grow smaller as more members seek a community-based approach to fitness. Small group trainings allow personal trainers to customize workouts to participants' fitness levels similar to a one on one session with the additional camaraderie of a group exercise class. If you have a staffed fitness center, consider creating an area specifically for this purpose.
"Using a variety of flooring materials and modular fitness pieces to create dedicated training spaces is exciting," says Jeff Washburn, Vivecorp general manager. "Training staff can be more creative and flexible with their programming, providing a better experience for their members."
A dedicated training space is also perfect for your more fitness-savvy members who enjoy planning and performing workouts on their own. Just make sure the space doesn't create extra congestion in the facility during peak periods.
Self-Powered Cardio Equipment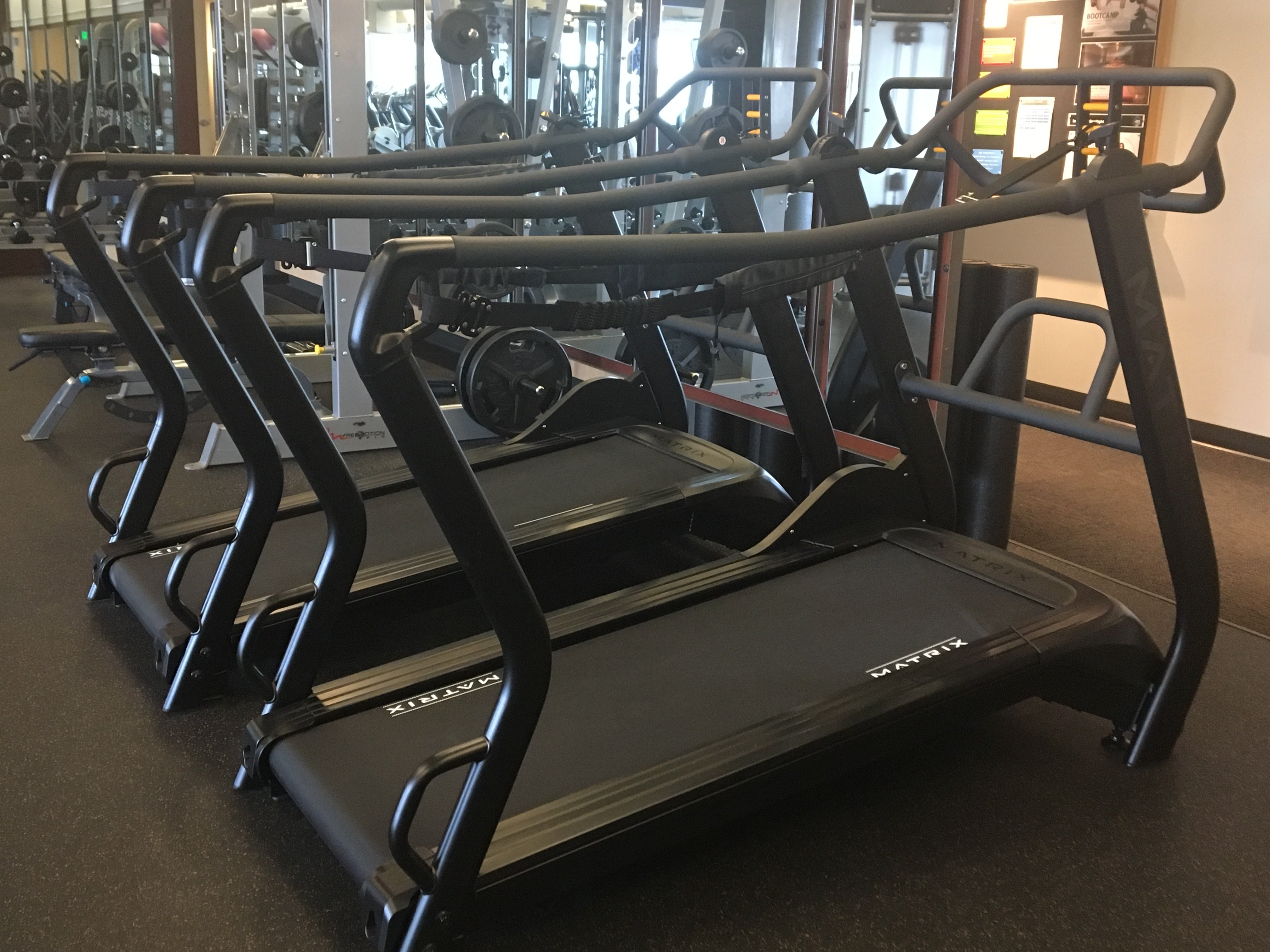 Sustainable design is a concept gaining mainstream attention. The intention of sustainable design is to "eliminate negative environmental impact completely through skillful, sensitive design"
How does sustainable design impact your fitness center? One of the ways you can practice sustainable design is through self-powered cardio. Self-powered cardio equipment, or equipment that requires the user's power, not electricity, can have both environmental and fitness benefits.
For example, a traditional treadmill pulls you along (even though it doesn't feel like it!) because the belt is doing some of the work for you. But a self-powered piece of equipment, like a traditional rowing machine or newer equipment like the Matrix S-Drive (pictured above) force the user to be fully engaged to operate the equipment, thus eliciting more effort and up to 30% more calories burned.
The obvious environmental impact is the lack of electricity needed to power this kind of equipment. Gyms like the Green Microgym in Portland exclusively use self-powered equipment and have found their electricity use has decreased by 85%.
Washburn points out that self-powered cardio can also give gym designers some additional flexibility, allowing them "to get creative with equipment placement while not being tied to outlet locations."
Creating a Natural Aesthetic
No one wants to exercise in a dark, colorless space with fluorescent lighting. If you can, make the most of natural lighting. Natural lighting has been shown to improve mood, increase energy and even enhance performance.
If your facility doesn't have access to natural light, consider wall murals or paint colors to match specific areas of the gym. For example, use calming neutrals in yoga rooms, vibrant, energizing colors like lime green in group fitness areas and blues in group training or weight lifting spaces as a cooling effect to trick the mind and keep members from overheating.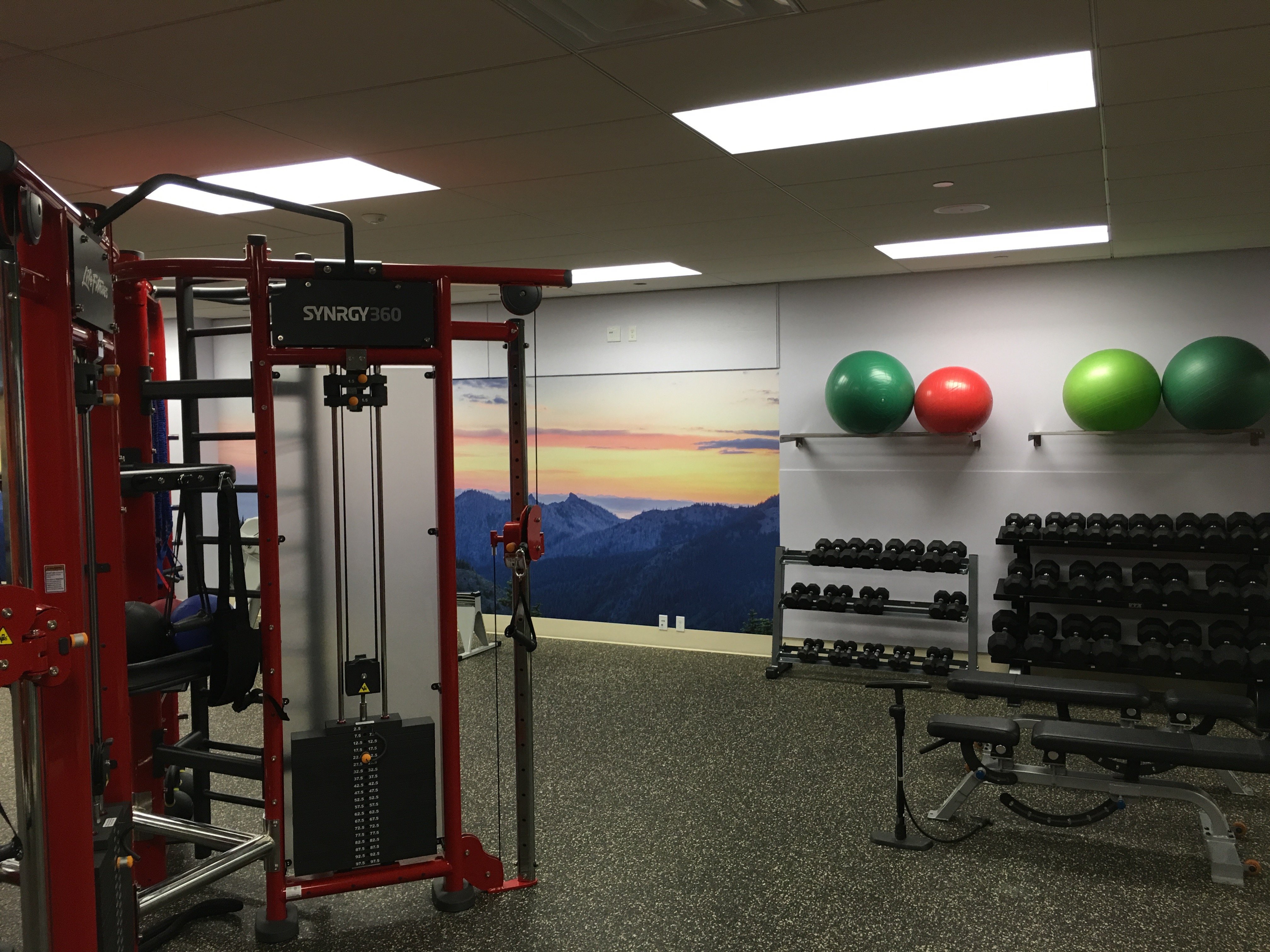 Another example of a windowless space using murals to add a natural element.
Incorporating plants into your facility can have several benefits. Plants clear the air of harmful contaminants like mold, dust and bacteria in addition to decreasing the off gassing that occurs with any number of everyday materials - especially gym equipment.
In addition to clearing the air, plants have also been shown to reduce stress and anxiety - especially useful in a high-powered, corporate environment.
Washburn sees the use of natural elements and vegetation as helping to create an oasis where members go to "decompress from the stresses of the day."
Designing your fitness center to best support the health and fitness of your members doesn't have to mean completely overhauling your space. Making small changes can have a big impact on your membership and enhance participation and engagement.